Christmas in My Heart – Joe Wheeler
Warm this Christmas up with stories that represent what Christmas is really all about. For 20 years, Dr. Joe Wheeler has assembled short stories of the Christmas season in a beautiful book series called Christmas in My Heart. And this year is no different.
You can visit him at the Potomac ABC this Sunday, November 27, 10am-5pm
Restore A Child
I am Norma Nashed, founder and president of Restore A Child, a humanitarian organization dedicated to serving orphaned and impoverished children. I believe my own experiences with poverty and being an orphan and learning to cope with adversity has prepared me to be an advocate for these children.
More than 12 years ago I was diagnosed with cancer. It was then that I felt called by God to leave my job and career and serve suffering children in a more active way. I started by giving up my retirement money for a few orphaned children. As others heard of this ministry they gave as well. Whatever I received I gave out.  Through my journey of giving God has blessed me with joy, peace and purpose for my life which far exceeds all riches, social status or academic achievement.
Restore a Child now serves over 3,000 children in 13 countries. In addition to the orphanages, schools and clinics we build or support, recently we started helping with the feeding programs for starving children in the Horn of Africa. Please won't you help?  Just 30 cents per day can save a child from starvation!
Managers Memo: Living Generously
Tommy felt like giving up. He wrote us with his story…
This morning on my hour-long commute to work, I was listening to WGTS 91.9 and working through some stuff with the Lord.  I've had trouble sticking with my walk with the Lord all my life.  I start devotions and then slack off after a couple days. I promise to pray more regularly, and then, after a week, find myself back at square one. 
Satan was whispering in my ear about being a loser of a Christian, and that God is sick and tired of my many years of broken promises. 
You played two hymns, and I was struggling with should I even try again, knowing that I'll for sure blow it.  You then played the Casting Crowns song about listening to the voice of truth as opposed to the whispers of lies. 
I started crying and had to pull over.  God's faithfulness and love for me overwhelmed me, and I just wanted to share this with you.
God used you to touch me today, and I'm so thankful.  Thank you for letting Him use you. I appreciate your ministry.
Can you relate? Have you ever been at the end of your rope when all of a sudden God makes His presence known and it turns things around for you?
It's something we are honored to hear about on a daily basis around here – listeners sharing their stories about how God is changing them, blessing them through the songs and things shared on WGTS 91.9 – every day.
With your financial and prayer support, WGTS 91.9 will continue to be here, for Tommy and many just like him, at any time, just when needed.
Our annual Sharathon is just around the corner – Nov. 14-18. It's our primary and most important fundraiser of the year. Would you help us reach the goal with your pledge of support?
You might be thinking, "John, I'd love to help, but I'm feeling uneasy about things with prices rising on almost everything and unemployment still above normal. What if I'm next to get cut?"
All of us struggle with fear – the tendency seems to be universal. It's so easy to see the glass half empty, rather than half full.
I encourage you to live in a state of hope, acknowledging His blessings, rather than one of constant fear. Fear is not what God desires for us. On a daily basis we must surrender our fear to Him, allowing us to live in peace knowing that He has everything under control.
God knows of our fearful tendencies and reminds us we are not to live in fear. I'm thinking of what Paul wrote to the Philippians as recorded in the Bible.
   Do not be anxious about anything, but in everything, by prayer and petition, with thanksgiving, present your requests to God. Philippians 4:6
Like it did for Tommy, I believe God uses WGTS 91.9 on a daily basis to keep us from falling into a constant state of fear. It's an amazing 24/7 wherever, whenever tool God has given us to remind us of how He has blessed us.
Let's keep this ministry going strong – together! Join us in sharing the Word of Jesus throughout the greater Washington region. With your help, God is using WGTS 91.9 to eliminate fear, bring hope and a heart of thankfulness, and a sense of abundance.
Would you put a spirit of generosity into practice with a special donation, a promise of support?
The devil would have us live in fear – by living generously we are shining the light of God's love, eliminating the darkness. Thank you for making WGTS 91.9 a piece of your "generous living" portfolio.
Sincerely,
John Konrad
General Manager
P.S. Thank you for your generosity – for deciding to live with a heart of thankfulness rather than a heart of fear. You mean a lot to this ministry and the thousands it points to Jesus each day – Thank you!
Breakaway: Go Big!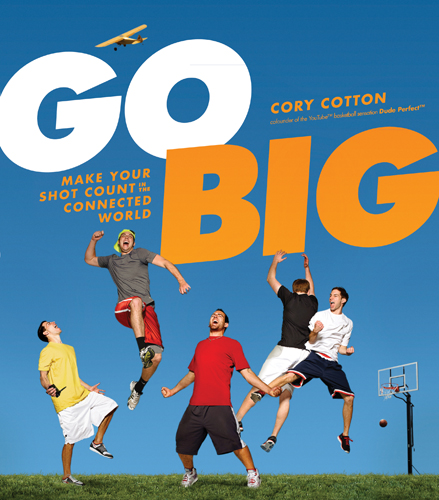 How many of us can say that we have taken that extra step to move outside of our comfort zones to something new? Messing up, trying again and again to succeed, just to know that it could be done?
Well these guys have. Cory Cotton and his buddies have taken the ultimate leap and tried just about anything to make amazing basketball shots. How? By thinking big, then GOING BIGGER.