Be the Salt of the Earth
It's easy to make New Year's Resolutions like "I'm going to lose weight," "I'm going to get more organized" or "I'm going to manage my money a little better."
But what about making your life an example to others? How about letting your light shine for others?
Chaplain Terry talks with Dr. Jose Rojas about turning a casual New Years Resolution into a life changing new drive for your life. It's the kind of change that will change everyone around you.
You can listen to and download the interview below.
Podcast: Play in new window | Download
Today on the Morning Show – Dec. 30
Have you ever lost something that meant so much too you and then found it years later?  One couple is very thankful to find the engagement ring that they lost 36 years ago.
Maybe your looking for something fun to do with the family this New Years Eve in Virginia. First Night Alexandria is back!!!  They will not have fireworks however.
.
Are you looking for something safe and fun for the family on New Years Eve in Maryland?  There will be fireworks at Merriweather Post Pavilion in Columbia among other family activites.
A new start to a new year. Chaplain Terry stopped by this morning and talked to Brennan  about ways to build a prayer life.
*   It's what you learn after you know it all that counts.
*  Things turn out best for the people who make the best of the way things turn out.
* If you go looking for a friend, your're going to find they're very scarce. If you go out to be a friend, you'll find them everywhere.
* Appreciate yourself by allowing yourself the opportunites to grow.
* Don't choose to keep remembering what God has chosen to forget.
* It's impossible to do something kind for someone else,  without doing something kind for yourself.
Podcast: Play in new window | Download
Today on the Morning Show – Dec. 29
Did you get a gift card for a store or restaurant that just isn't you?  Well there is a website called giftcardrescue.com  that allows you to trade in your card for cash.
Losing a day?  Well that is just what is happening due to a time chage this week in Samoa.
It's never too early to teach your kids how to write thank you notes.
Ever wish your job had unlimited vacation time?  Well employees for one Maryland company do!
*  In the middle of every difficulty lies an opportunity.
*  We get comfort from those who agree with us, and we get growth from those who disagree with us.
*  A faithful friend is the medicine of life.
*  Weeping may endure for a night ,but joy comes in the morning
*  There is nothing God cannot use for good in your life if you hand it over to him and then trust him.
* When love and skill work together , expect a masterpiece.
Today on the Morning Show – Dec. 28
Eight month old Cooper Wagner grabs the Presidents face while taking a picture.
Bambi and Forrest  join U.S film registry.
*  Live as if your prayers are to be answered
*  It's not what happens to you, it's what you do about it
*At the center of your being you have the answer; You know who you are and you
know what you want.
*  When you get to the place where you would worry, Stop and pray.
*Victory belongs to the most persevering.
*Failure is simply the opportunity to begin again, this time more
intelligently.
Today on the Morning Show – Dec. 27
Josh Wilson will be hanging out with Brennan for the 7AM hour.
No Cupcake for you!!! You might want to leave that cupcake at home the next time you fly.
Let's all say it together "Awwwwwwww"  Danish zoo raises polar bear cub by hand.
                       *  Character isn't made in a crisis, but that's when it's on full display
                       * You can make the place you are now your paradise.
                       *  You're only one thought away from happiness
                       *  The strength of a person is not what's around them, but what's in them.
                       * The platform of success is built from the broken floors of failure.
                       * There are no secrets to success.  It is the result of preparation, hard , and
learning from failure.
Today on the Morning Show – Dec. 26
  Restaurant.com is letting you give
your friends and family $10 restaurant gift certificates this holiday season for
free. And you can give the gift certificates to 40 friends PER DAY! Your friends
even get to pick the restaurant. Restaurant.com is letting
you give your friends, family, or anyone you know 10 dollar restaurant gift
certificates thru Dec 31st for free… Restaurant.com
says they're doing it to build community and lift people's spirits.
Air
travelers with medical issues can get stress relief from the Transportation
Safety Administration.  The TSA now has a toll-free phone line to help those                                                                                            

people before they get to the airport.  The service is called TSA Cares, and
it's a place for travelers to get answers to questions about the least-stressful
way of going through pre-flight screening.  The agency says when a traveler with
a medical condition or disability calls, "A representative will provide
assistance either with information about screening that is relevant to the
passenger's specific disability or medical condition, or the passenger may be
referred to disability experts."  TSA advises people to call 72 hours before
they're going to travel so customer service managers can coordinate support at
the screening checkpoints.
Tackling
texting while driving…controversial thing…cell control…put it in the car…acts as
a Bluetooth signal out to block the cell phone…doesn't block the iPhone…25 bucks
for the device and a monthly fee of 8 bucks…
                     Love isn't something you always feel, but it's something you should always
practice.
                     For the Lord will be your confidence, and will keep your foot from being
caught.
                    Happiness doesn't come from getting what you want, it comes from
appreciating what you have.
                     If you want to enjoy the rainbow, you have to put up with a little
rain.
                      The road leading to a goal does not separate you from the destination; it
is essentially a part of it.
                       If you want to go fast  go by yourself. If you want to go far go with others.
The Exceptional Life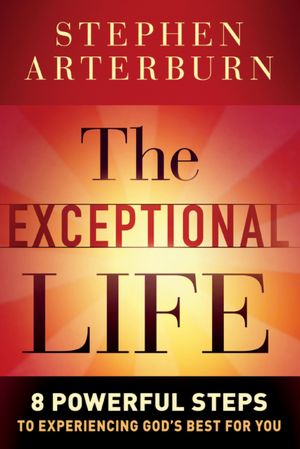 Steven Arterburn, popular author, speaker, and radio host, shows readers what they need to give up in order to have God's best for their lives. After candidly sharing his give-up moment, he examines eight things that hold Christians back–including guilt and shame, resentment, ear, anger, and isolation. He then helps readers give up their lives to God, resulting in lives full of hope, love, trust, forgiveness, connection, community, and much more.
Podcast: Play in new window | Download
Today on the Morning Show – Dec. 23
Oh the cuteness of puppies … but the experts say Christmas is the worst time to get a pet – UNLESS you were already planning on adding a furry bundle to your family.
If so, you may want to check out the Washington Animal Rescue League – they just got in 100 puppies that need homes.  Check out WARL here.  There are also shelters that specialize in specific breeds.  Here's just one in our area – All Shephered Rescue.  General Manager John and his wife Dawn have worked w/ dog rescues for years and helped to create this one.
The added benefit of a rescued pet?  For a busy Mom who doesn't need anyone else to clean up after (I know there will be the occasional accident no matter what w/ a pet) … but to think that you could find just the right 'warm bundle of love' that's already House Trained is very appealing to this mom.
The perfect last minute gift … that makes a difference.
Why put yourself through the torment of trying to find a gift in the very crowded, 'not a single parking left in sight' , very picked through stores?!?
Many organizations allow you the perfect gift giving opportunity that won't gather dust on the shelf or get re-gifted.  And… you can change a child or even a family's life in a very impoverished part of the world just w/ a click of you mouse.   ADRA is one of the many organizations that is doing something like this.  You can check out ADRA's Really Useful Gift Catalog here.
  A way to get the kids to be on the computer w/o playing video games?  They may even learn a thing or two about Geography … while tracking Santa w/ NORAD.
Tracking Santa is now easier than ever!
Are you one to hit the Snooze button more than once?
What your morning routine says about you.
It's not the gift but the thought that counts
Christmas, is love in action. Every time we love, every time we give, it's Christmas.
Christmas is doing a little something extra for someone.
At Christmas, all roads lead home.
From home to home, and heart to heart, from one place to another. The warmth and joy of Christmas, brings us closer to each other.
Today on the WGTS 91.9 Morning Show – Dec. 22
Walmart has pulled a batch of baby formula off its shelves after a baby lost his life.  a rare bacterial infection, which can come from contaminated powdered infant formula, and died on Sunday.  Despite the manufacturer saying the Enfamil Newborn powder tested negative for the bacterium before it was shipped, Walmart is recalling all 12-point-five ounce cans with the batch number Z-P-1-J-7-G as a precaution.
 If you need an easy, inexpensiv​e dinner idea for tonight … I ( Becky) think I will try to add some fresh mushrooms, and may some spinach?
It's that time of year, that your child may bring some sort of virus home … just in time for vacation …  My oldest son, Zac came home this week   from school feeling miserable, that spiraled into a fever all night, throwing up all day yesterday …  and, although it was exhausting, I'm so glad I have a job that allowed me to take part of a sick day myself to be there for him in his time of misery … Loving your sick kids … and all that comes w/ that …sure isn't pretty.  But, it really reminded me of how my Heavenly Father loves us even when we're at our worst.  We don't have to clean ourselves up in order for Him to wrap His arms around us and hold us.  When we need Him, He loves us first, then helps us get back on our feet and cleaned up.  (I was inspired by a fellow mommy's blog – check it out here.
Investments
help promote financial literacy and lay the foundation for future savings for your kids!
My kids ( Becky) are addicted those frozen, microwavab​le frozen spinach souffles you find in the store. I've been on the look out for something healthier and  CHEAPER (mainly) to replace it with … maybe
this
?
Excellence is not a skill. It is an attitude.
  A father is someone who carries pictures where his money used to be
 Life isn't measured by the number of breaths we take, but by the moments that take our breath away.
 God will direct your steps, but you have to be willing to move your feet.
        Doing what you love is the cornerstone of having abundance in life.
        The bend in the road is not the end of the road unless you refuse to take the
Today on the WGTS 91.9 Morning Show – Dec. 21
Turkey recall that will affect our area…if you got Chef Requested Center Cut Steak, you may find that it's actually turkey…the company mislabeled it…they told the USDA about it and are having it recalled– nobody's gotten sick from it but it certainly might mess up your dinner plans if you were counting on having steak in the next few days…we've got all the codes so you can double check it with what's in your refrigerator or freezer at wgts919.com (on the morning show blog).
Say what you will about the awful stressfulness of the holiday season, but at least this time of year brings out the charitable nature of a great many people. Case in point: The strange, anonymous, and wonderful movement growing around the country that finds wealthy donors secretly paying off people's layaway accounts.
A
new family tradition possibly? Helping the Audubon Society track our nation's bird population.
Google having fun this Christmas season "Let it snow"
ZOO Lights @ the National Zoo is on … a low cost memory making experience.  Check it out here.
Postive thoughts…..
Always look at what you have left. Never look at what you have lost.
A laugh is a smile that bursts.
We may not know what tomorrow holds but, we know who holds tomorrow.
We don't stop laughing because we grow old. We grow old because we stop laughing
God will show mercy forever and ever to those who worship and serve Him.
God looks at the heart, not the hand; He looks at the giver, not the gift.