Dean Waterman
Chaplain Terry talks with Pastor Dean Waterman about answering God's call in your life. You can listen to the interview below.
Feel free to get in touch with Pastor Dean:
Overcome Your Fears
Chaplain Terry talks with Dr. Jose Rojas about tapping into God's strength to overcome your fears and lead a bold and empowered life.
You can listen to and download the interview below.
Unashamed to Bear His Name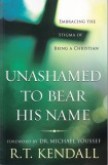 Embracing the stigma of being a Christian
In our increasingly secular society, being a Christian carries a cost. Whether through public criticism or the quiet loss of respect, it is hard–and becoming harder–to be known as a Christian. Even as believers try to follow the will of God, they are often misunderstood and left to deal with the awkward, sometimes painful results of feeling disconnected from their fellow man.
Listen to R.T. Kendall's interview with Chaplain Terry below.
Matthew West – The Story of Your Life
When Grammy-nominated recording artist Matthew West started writing his top-selling new album, The Story of Your Life (Sparrow, 2010) he asked fans to submit personal experiences. More than 10,000 tales of hope, perseverance, and redemption poured in. With friend and author Angela Thomas, West presents some of these powerful stories paired with meaningful devotions they inspired.
Wendy gave birth to her daughter in jail. When all seemed hopeless, she found God and her life transformed into something beautiful.
Cory, a married youth pastor, had an affair and his life fell apart. With God's mercy, he and his wife gathered the broken pieces and started again.
Sheila always struggled with severe insecurity. Now she lives confidently in the purpose God has for her.
This unforgettable devotional journey inspires readers to discover God as the author of their unique lives and to share the power of their story.
Listen to Matthew's interview with Chaplain Terry below.