Breakaway with Dr. Terry Johnsson

Breakaway is a weekly program heard each Saturday at 9am. Dr. Terry chats with authors, speakers, and other special guests to help you grow closer in your walk with God.
Have a question about something you heard?
Contact Breakaway
Listen back to recent guests heard on Breakaway by subscribing to our Podcast:

This is a special presentation of Breakaway. We are celebrating the life of our friend and General Manager John Konrad who took his last breath on January 2, 2013.
Podcast: Play in new window | Download
Mark Schultz shares stories & songs on Breakaway with Chaplain Terry Johnsson. You can listen to the interview below.
Podcast: Play in new window | Download
Long time radio host Dr. Gerry Fuller died Sunday July 1, 2012 at the age of 83. He was best known for his position at the Christian radio station WGTS 91.9 as host of the Saturday morning broadcast, Breakaway. For 45 years people tuned in to WGTS 91.9 to listen to Fuller's familiar voice and hear fascinating interviews with well-known guests such as Dr. Ben Carson, Dr. Charles Stanley, Philip Yancey and many other public figures.
Fuller was born in Minneapolis, Minnesota to two Adventist church schoolteachers. His parents moved to California soon after his birth where Fuller lived for most of his young life. He graduated from Pacific Union College with a degree in speech and then spent several years as a television announcer in Northern California. After moving to the Washington D.C. area, he received his degree in dentistry from Howard University. Fuller worked as a licensed DDS in the D.C. area for many years and served as president of the board at the radio station.
Fuller retired from WGTS 91.9 in the fall of 2011, just before his 82nd birthday. Following his retirement, the Gerry Fuller Mission Outreach Fund was established to mentor Christian radio stations throughout the world and teach them how to better spread the Word of God.
Despite being regarded as a powerful figure, Fuller was also considered a friend. At Fuller's 2011 retirement celebration, current general manager of WGTS 91.9 John Konrad shared his close relationship with the long-time legend saying, "Gerry has been a constant source of support and inspiration to me since I started working at WGTS in high school. And even then though Gerry has been my boss for years, he's been more like a brother to me."
He was loved by station as well as the community and his family and will be missed by all who witnessed his passion for serving the Lord through radio broadcast.
He was admitted to Washington Adventist Hospital, and passed away July 1. Fuller is survived by his wife Joy, his three children Gerri Ann, Jon and Jay, as well as his two grandchildren.
There will be a memorial service on Saturday, July 14 at 4 PM at the Sligo SDA Church.
A special tribute to Dr. Fuller will air on WGTS 91.9 at 9 a.m. on Saturday July 14. Please feel free to leave some words about Dr. Fuller in the comment section on this page under the article.
You can also donate to the Dr. Fuller Memoral Fund here. Just type "Dr. Fuller Memorial Fund" under comments.
Podcast: Play in new window | Download

Jerry & Blanca
Weekdays: 5a – 10a

Becky Alignay
Weekdays: 10a – 3p

Scott & Sam
Weekdays: 3p – 7p
Saturday: 7p – midnight
Brennan Wimbish
Weekdays: 7p – Midnight

Rob Conway
Tuesday-Friday: 12a – 5a
Angela Stevens
Saturday: 2p – 7p
Sunday: 1p – 7p
Afternoon Traffic (M-F)
Claude Jennings


Sunday: 7p – midnight


Brandi Lanai
Saturday: 5a – 8a


Sunday: 5a – 9a

Chaplain Terry Johnsson
Breakaway
Saturday: 9a – 9:30a
Ron DePas
Saturday-Monday: 12m – 5a

Kevin Krueger
Saturday 9:30a – 2p
Sunday 9a – 1p
Girls can't be preachers! Or so six-year-old Kay was told. If she couldn't be a preacher, the child decided to become a teacher. "Teachers talk almost as much as preachers," she reasoned. For Kay, God's plan included marriage and motherhood, classroom teaching, and the writing her first book. The book paved the way to the pulpit. Kay reminds, "Only God knows what's around the next bend in your life. Never sell Him short."
Chaplain Terry talks to writer, speaker and storyteller, Kay Rizzo whose practical and uplifting messages burst with joy and praise. She is in demand at retreats, conferences and convocations throughout the United States, Canada, the Caribbean, and Australia. Her love for travel and adventure is evident in her motto, "Send ticket; will travel." A graduate of CLASS (Christian Leaders and Speaker's Seminars, Inc.), she served on their West Coast teaching staff for ten years.
Since publishing her first book, Kay has authored 60 more and 1000+ articles. A biography I WILL DIE FREE remained on the publisher's bestseller list for 10 years and has recently been re-released. Rebecca's Crossing, volume eight of her family saga, the Serenity Inn Series, was released in 2011.
New and exciting discoveries await Kay, as she tests the power of e-booking on the Internet and blogging on her web site. "I never imagined blogging could be so much fun," she quips.
Kay resides with her husband and business partner, Richard, in California's San Joaquin Valley. Her greatest riches include her hubby of 40+ years; her two daughters, two sons-in law, two grandsons and a cat named Pepsi.
Podcast: Play in new window | Download
Chaplain Terry talks to our very own Chaplain Pete Garza. Hear what the power of a praying mother did to influence Chaplain Pete's life. Pete is not only a Chaplain at WGTS 91.9, but is also the worship leader of the WGTS 91.9 Gateway Praise Band and is the Promotions Director. You can listen to and download the interview below.
Podcast: Play in new window | Download
How to get past whatever's holding you back—and start living a whole new story
We all have holes in our lives—those things we lament about ourselves. Those things we allow to define us in ways we don't like. Those things that keep us from living the life God wants for us.
But what if you discovered that the holes in your life are really the things that will ultimately make you . . . well, whole?
Author and communicator Lisa Whittle knows this all too well. When her world was rocked to the core in a very public way, her faith and whole reason for living were challenged like never before. In that moment, Lisa was confronted by the holes in her spiritual life. And what she learned not only changed her life, but could bring great possibilities to yours.
In Whole, Lisa calls you to take an honest look at your holes, discover how to fill them with God's presence, and get to a real and vibrant place of wholeness instead. In her trademark bold, compassionate, and relatable voice, Lisa takes you on a transformational journey of understanding who you really are . . . and what you were born to be and do.
Lisa Whittle has an extensive background in the church, from her experiences as a lifelong pastor's daughter to serving in nonprofit ministry and planting a church with her husband. Her education includes master's work in marriage and family counseling, which has provided a backdrop for her various leadership positions within both church and parachurch organizations. Lisa's core passion is to boldly inspire the church to represent Jesus well.
You can listen to the full interview on Breakaway below.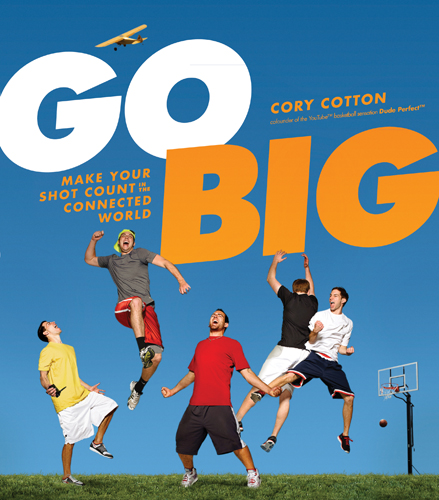 How many of us can say that we have taken that extra step to move outside of our comfort zones to something new? Messing up, trying again and again to succeed, just to know that it could be done?
Well these guys have. Cory Cotton and his buddies have taken the ultimate leap and tried just about anything to make amazing basketball shots. How? By thinking big, then GOING BIGGER.
Podcast: Play in new window | Download
Today we have a classic Gerry Fuller Breakaway from one of our favorite guests, Dr. Ben Carson. Gerry discusses Dr. Carson's book, "Take the Risk."
You can find our culture's obsession with avoiding risk everywhere, from multiple insurance policies to crash-tested vehicles. But is ducking risk the most productive way for us to live? Surgeon and author Dr. Ben Carson, who faces risk on a daily basis, offers an inspiring message on how accepting risk can lead us to a higher purpose.
"No risk, pay the cost. Know risk, reap the rewards. In our risk-avoidance culture, we place a high premium on safety. We insure our vacations. We check crash tests on cars. We extend the warranties on our appliances. But by insulating ourselves from the unknown—the risks of life—we miss the great adventure of living our lives to their full potential. Ben Carson spent his childhood as an at-risk child on the streets of Detroit, and today he takes daily risks in performing complex surgeries on the brain and the spinal cord. Now, offering inspiring personal examples, Dr. Carson invites us to embrace risk in our own lives. From a man whose life dramatically portrays the connection between great risks and greater successes, here are insights that will help you dispel your fear of risk so you can dream big, aim high, move with confidence, and reap rewards you've never imagined. By avoiding risk, are you also avoiding the full potential of your life? The surgery was as risky as anything Dr. Ben Carson had seen. The Bijani sisters—conjoined twins—shared part of a skull, brain tissue, and crucial blood flow. One or both of them could die during the operation. But the women wanted separate lives. And they were willing to accept the risk to reach the goal, even against the advice of their doctors … As a child on the dangerous streets of Detroit, and as a surgeon in operating theaters around the world, Dr. Ben Carson has learned all about risk—he faces it on a daily basis. Out of his perilous childhood, a world-class surgeon emerged precisely because of the risks Dr. Carson was willing to take. In his compelling new book, he examines our safety-at-all-costs culture and the meaning of risk and security in our lives. In our 21st-century world, we insulate ourselves with safety. We insure everything from vacations to cell phones. We go on low-cholesterol diets and buy low-risk mutual funds. But in the end, everyone faces risk, like the Bijani twins did with their brave decision. Even if our choices are not so dramatic or the outcome so heartbreaking, what does it mean if we back away instead of move forward? Have we so muffled our hearts and minds that we fail to reach for all that life can offer us—and all that we can offer life? Take the Risk guides the reader through an examination of risk, including: • A short review of risk-taking in history. • An assessment of the real costs and rewards of risk. • Learning how to assess and accept risks. • Understanding how risk reveals the purpose of your lives."