Joni Bovill
Actress and singer Joni Bovill will be at WGTS 91.9 Gateway Fellowship on Saturday, May 5, 2012 at 6 PM. Click here to find out how to get to WGTS 91.9 Gateway Fellowship. She is no stranger to Hollywood. She pursued her dreams when the world told her she couldn't and has appeared on numerous tv shows, movies and commercials.
You can listen to her interview here.
Ben Carson – Gifted Hands
In 1987, Dr. Benjamin Carson gained worldwide recognition for his part in the first successful separation of Siamese twins joined at the back of the head. Such breakthroughs aren't unusual for Ben Carson. He's been beating the odds since he was a child. Raised in inner-city Detroit by a mother with a third grade education, Ben lacked motivation, had terrible grades. And a pathological temper threatened to put him in jail. But Sonya Carson convinced her son he could make something of his life. Trust in God, a relentless belief in his own capabilities, and sheer determination catapulted Ben from failing grades to the directorship of pediatric neurosurgery at Johns Hopkins Hospital in Baltimore, Maryland. Gifted Hands takes you into the operating room to witness surgeries that made headlines around the world—and into the private mind of a compassionate, God-fearing physician who lives to help others.
More at the Potomac Adventist Book & Health Food Store.
Check out the interview with Chaplain Terry!
This Urban Teacher's Journal: A Success Story For All Teachers Who Work In Inner-City Schools
You can listen to the interview with Chaplain Terry below.
This is a story about the experiences of C. Angela, a teacher who has served in urban schools. She addresses some of the successes and challenges that she has faced. She also provides practical advice to beginning teachers and inspires others to follow their dream to make a difference in the urban schools.
About the Author
C. Angela holds a Bachelors Degree in Music Performance and a Masters Degree in Elementary Education. Currently, she is completing her doctorate in Urban Education Leadership, specializing in Education Planning and Administration. She is a pianist, organist, choir director, writer, speaker and workshop presenter.
David Newman
Chaplain Terry talks with Pastor David Newman about how to understand the Bible and turn it into something that can help you everyday. Listen to the interview below.
Charles Tapp
One of Chaplain Terry's good friends Pastor Charles Tapp of the Sligo Adventist Church stopped by to talk. You can hear the interview below.
You can always hear Pastor Tapp on Saturday mornings at 8:30 on Simple Truths for Life.
This weekend you are welcome to come by Sligo Church for a special Easter weekend
Dean Waterman
Chaplain Terry talks with Pastor Dean Waterman about answering God's call in your life. You can listen to the interview below.
Feel free to get in touch with Pastor Dean:
Overcome Your Fears
Chaplain Terry talks with Dr. Jose Rojas about tapping into God's strength to overcome your fears and lead a bold and empowered life.
You can listen to and download the interview below.
Unashamed to Bear His Name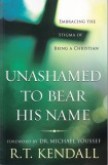 Embracing the stigma of being a Christian
In our increasingly secular society, being a Christian carries a cost. Whether through public criticism or the quiet loss of respect, it is hard–and becoming harder–to be known as a Christian. Even as believers try to follow the will of God, they are often misunderstood and left to deal with the awkward, sometimes painful results of feeling disconnected from their fellow man.
Listen to R.T. Kendall's interview with Chaplain Terry below.
Matthew West – The Story of Your Life
When Grammy-nominated recording artist Matthew West started writing his top-selling new album, The Story of Your Life (Sparrow, 2010) he asked fans to submit personal experiences. More than 10,000 tales of hope, perseverance, and redemption poured in. With friend and author Angela Thomas, West presents some of these powerful stories paired with meaningful devotions they inspired.
Wendy gave birth to her daughter in jail. When all seemed hopeless, she found God and her life transformed into something beautiful.
Cory, a married youth pastor, had an affair and his life fell apart. With God's mercy, he and his wife gathered the broken pieces and started again.
Sheila always struggled with severe insecurity. Now she lives confidently in the purpose God has for her.
This unforgettable devotional journey inspires readers to discover God as the author of their unique lives and to share the power of their story.
Listen to Matthew's interview with Chaplain Terry below.
How Do I Forget?
Chaplain Terry talks with Dr. Ralph Martino about how to deal with problems in your past.
How many times have we struggled with memories that haunted us for days and months and even years?  How many times have we prayed for strength to put behind us our past and the pain associated with it?  How many days have we cried over costly decisions that were made whose consequences trouble our present and cloud our future?  What will it take for us to finally get them out of our heads and amputated from our thoughts?
We have memories locked away in the vault of our mind and secured by the soldiers of the enemy. How do we unlock those memories and free ourselves to forget the past and pursue the future?
God says in His word to forget the former things, neither consider the things of old. He wants you to let go and stop remembering the mistakes you made, stop dwelling on what others did to you, stop living in the past.
From the life and experiences of Joseph, Genesis 41:50-52 teaches us that there must be birthed in our lives a "Manasseh" and an "Ephraim" before the issues of life bombard us and leave us trapped in the past, burdened in the present and lost in the future.  What GOD did for Joseph, HE is ready to do for us.  GOD is ready to birth into our lives the power and the knowledge to forget and the power and the knowledge to be fruitful in our greatest area of battle!
How?
To learn how you must first understand the memory. This book walks the reader through an in-depth and life-changing understanding of the memory leading the reader to finally answer the question, "How Do I Forget?"