The Story Project
People are impacted every day by what God is doing through WGTS 91.9, and we thought we'd share a few of the stories we hear each day with you.
You can share your story, too! Leave a comment at 800-400-1432 or by email.  

George is a truck driver who spends a lot of time alone on the road. One day, something happened where he felt especially alone and in need of comfort from God. Then he heard something on the radio.
_________________________________________________________________

Erica had been finding it hard to put past hurts behind her with her family. She shares how WGTS 91.9 helped her realize there was freedom in forgiveness, and how it transformed her relationship with them.
_________________________________________________________________

Christy's life changed forever when her 3 1/2 year old son, Christopher died in a tragic accident. This mother of four was ready to give up on life…but God, through the songs on WGTS 91.9, reached out to her and gave her hope in the midst of the darkest time of her life. Hear the story of how God carried her through, and where He has led her since.
_________________________________________________________________
Due to difficult circumstances in Bonnie's life, she became homeless. Soon, she became ill with pneumonia and was hospitalized. After 4 days in the hospital, she was released, but still had no place to live. Fortunately, thanks to her friend, Bonnie was able to live in a hotel for 3 weeks. During all these challenges, she listened to WGTS 91.9 which brought her hope and peace. Overall, she was able to have a stronger relationship with God and is thankful for WGTS 91.9 for being an inspiration to her life.
_________________________________________________________________
Nicole had been listening to WGTS all week during the Spring Fundraiser and really wanted to donate. But, she is a government contract whose company lost their contract. As of the end of May, she would be out of a job. She was terrified but felt somewhere deep down that this was right. She called in to give $1,000 on faith. The next day she was contacted by a recruiter and had a Skype interview. A few days later, Nicole received notice she had been chosen for the position! God hasn't just blessed her to be able to support WGTS, but all of this tells her that this is right where she should be.
_________________________________________________________________
In October 2007, Carrie's one year-old daughter started having severe medical problems. From May 2009 to the present, they have been going to Johns Hopkins in Baltimore. During all of those drives, they always listen to WGTS 91.9. Her daughter had 9 surgeries in the first five years of her life for one rare thing after another. She lived in severe pain for the first years of her life. Listening to WGTS 91.9 while driving to countless medical appointments, countless medical tests, surgeries, and hospital stays, brought hope and encouragement to Carrie's family.
_________________________________________________________________
In 1997 Jim was following a path of loyalty to the Lord when his fiancé died in a car accident. He became a very bitter man which led to womanizing, alcohol, drugs, and violence. As a result this lifestyle landed him in jail. However, Jim was invited to a Church in jail where he became a Christian. When he got out, he decided to look for something inspirational and by accident he found WGTS 91.9, which he says uplifts him and helps him stay on God's path.
_________________________________________________________________
Carrie's husband is an Air Force pilot and he deployed in May 2013. Originally the deployment was supposed to be for 7 months but was extended to 10 months (300 days). It's the longest deployment since they've had children. Their children are 9 and 7 years old, and have really missed their daddy. But her husband has been listening to WGTS 91.9 overseas, and it has helped connect them despite the distance, knowing that he is listening to the same radio station that they are.
_________________________________________________________________
Daniel was out of a job, and eventually found one out of state (in Michigan) and had to be there during the week and come back home on weekends to be with his wife. As you can imagine, it was very difficult for them, until he put a prayer request on WGTS 91.9′s Prayerworks about finding a job closer to home. Almost immediately, he got responses that people were praying for him. Several days later he got an offer for a job here in DC area and he's so excited.
_________________________________________________________________
John's wife of 31 years passed away just a little over a year ago. There's an old radio she got at an auction sitting on the end of their kitchen counter. When she was with him, it played WGTS 91.9 continuously. Until recently, he hasn't had the courage to turn it on. But when he turned it on, instead of the sadness he feared, he felt comfort listening all day as he was preparing the house for Thanksgiving company. He just can't explain how much it seemed to turn his house back into a home.
_________________________________________________________________
You make a positive difference, when you support WGTS 91.9.
_________________________________________________________________
Samantha Wright shares how Brandon Heath's "Give Me Your Eyes" opened her to treat others with empathy as well as how God continues to use WGTS 91.9 radio to bring a gentle touch of guidance to her life.
_________________________________________________________________
Megan and her family were literally right in the middle of the Capitol Hill shooting in September of 2013. Her 4 year-old son happened to be at work with her when the shots were fired, and for the next several days was experiencing insecurity and fear. Megan shares how God used Chris Tomlin's "God Of This City" and "Whom Shall I Fear?" to grow her sons' walk with Him, and learn not to fear.
_________________________________________________________________
Vermelle Greene is the principal at S.A.C.R.E.D. Life Academy for Boys, and shares how God used tobyMac's "Steal My Show" to bring inspiration to the teachers at her school.
_________________________________________________________________
Vermelle's Story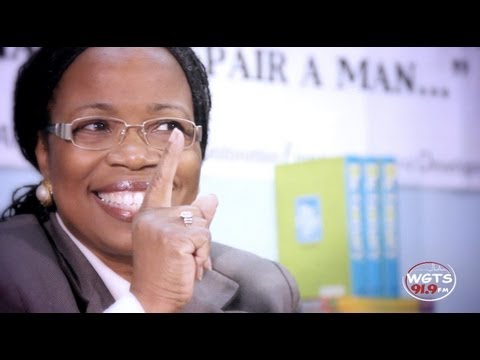 Good Samaritan
The WGTS Friendraiser is a time to give, share, and support your fellow listening family. We all see strangers every day: at work, on the road, at the store, the mall, at lunch, wherever you may be when you are out, you see strangers. These strangers may be WGTS listeners just like you. You are all part of the listening family, and all benefit from the results generated by the support of you and your fellow listeners. You hear the stories on air; we share the prayers and praises. The strangers you see, your fellow listeners, are going through a lot: depression, divorce, addiction, health problems, financial troubles, unemployment, relationship issues, legal trouble, the list goes on.
Today, right now, don't walk by these strangers. Be a "WGTS Good Samaritan" and lend a helping hand, reach out to those who are struggling, hurting, and broken. You can reach out and help by calling us at WGTS: 877-948-7919. Make a difference, be a "Good Samaritan", and help us in continuing the trend of changing lives here at WGTS 91.9 FM.
Monday Morning Miracle
The WGTS praise and prayer time Monday morning heard from over 250 listeners, sharing their praises, offering their prayers, and requesting prayer for their own lives. One of the callers, Susan from Westminster shared with us her praise and thanks to God for the miracles He performed in her life and for her daughter. In 2004, her daughter was shot, and it took over 50 units of blood to save her life. But the doctors said even that shouldn't have spared her. Susan was convinced that through prayer, God performed a miracle and saved her daughter. God helped them forgive the shooter, her daughter had to relearn everything through therapy, and by His grace she is alive when she shouldn't be. These are the kind of stories we hear every day at WGTS, and it's all made possible by the support and prayers of our listening family; listeners just like Susan. So call us today, we would love to hear from you. Pray with us, and for your fellow listeners.
Call 877-WGTS919 (877-948-7919) Support WGTS 91.9 and be a part of changing lives.
Power of Prayer
"Is any among you suffering? Let him pray. Is any cheerful? Let him sing praise." James 5:13
This morning, our friend Shale from Westchester called in and shared her story of the importance of prayer and church family.  Her son was recently in an accident in which he fell and hit his head. His head was swollen; he then blacked out, and later had a seizure. While he was in the hospital, their church family visited, bringing comfort and words of encouragement. The church family prayed with Shale and her son, that God would spare his life, that His will be done. Soon after, the boy was released from the hospital, and he made a full recovery. Through this time, Shale knew she wasn't alone, and it was then that she realized the power of prayer and the importance of church family.
Call WGTS today and share your praises with us. Pray with us, and for your fellow listeners. Help us in letting them know they are not alone, and that they have a family here at WGTS.
Call 877-WGTS919 (877-948-7919) Support WGTS 91.9 and be a part of changing lives.
The Gift of Joy
Brook and her husband have struggled with adoption. They went to their church and gave in the request. They got a call that a Christian ministry in Taiwan for mothers would be able to help them adopt. They are waiting to meet the mother & get a child. God made a way & he will provide the finances to give a child a great home.
Resilience of a Family
Trish praises God for her 9 year old son. Her husband was diagnosed with lung cancer when her son was 3 and he died when her son was age 6. Since then she constantly praises the Lord for giving her and her son the strength and the ability to overcome the grief.
God Rewards The Patient
Christine has prayed for 10 years for her husband to be saved and for God to touch him. No more than 3 weeks ago after 10 years of prayer he was saved and her prayers were answered. She says it has completely changed the marriage for the better. They can now talk about God in the morning and it is a great feeling.
God Speaks
Jackie was diagnosed with thyroid cancer in March during her last semester of grad school. When all hope was lost she felt that God spoke to her to tell her that she would be fine.
Facing Giants With God
Eva is going through a lot of hardship. She has children and not a lot of money. Single mother on the verge of being homeless. Has a voucher from the government for a place to stay, but they are trying to take it away. She needs to find a way to keep the voucher or she and her kids will end up homeless. She remains faithful and strong.