Shiloh's FREE Wi-Fi Technology Clinic at Shiloh Baptist Church
Saturday, 06 July, 2013
|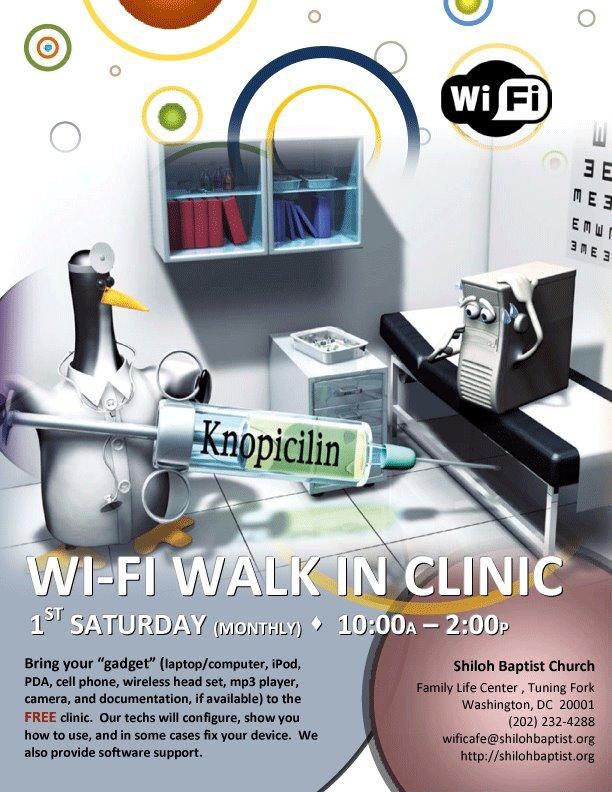 Bring your "gadgets" (laptop, computer, tablet, cell phone, camera, mp3 players, etc.) to Shiloh Baptist Church's FREE WiFi Technology Clinic and let Shiloh's Technolgy Committee assist you. Our techs will set-up your device, teach you to use it, and in some cases, will repair it.
COST: FREE
DATE: The first Saturday of each month
TIME: 10am - 2pm

LOCATION: The Tuning Fork @ Shiloh Baptist Church 1510 - 9th Street, NW, Washington, DC 20001
(All IT services provided at Shiloh Baptist Church during the technology clinic are free of charge. The purchase of any material, software, etc. needed to operate/repair devices are the responsibility of the device owner. Any contracted services requested of the IT volunteers, outside of the WiFi Technology Clinic, may be charged a fee, and are in no way associated with Shiloh Baptist Church or the WiFi Technology Clinic.
Cost
FREE
Venue
Shiloh Baptist Church
1510 9th Street, NW
The Tuning Fork
Washington, DC 20001
usa
Event Contact
SBC Communication Ministry

Phone: 202-232-4288
Website: Click to Visit

Similar Events