The First (and probably last) WGTS Great Broccoli Taste-Off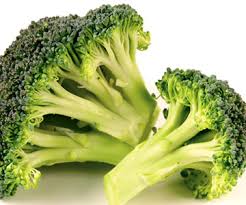 Recap: Brennan cheated and brought in Panda Express's Terriaki Broccoli instead of making the broccoli recipes Angela sent to him which honorary tasters Zack (7) and J.J. (5) liked the best.  You can find all the Great Broccoli Taste-Off recipes that were tasted below.
Azzeza's Fried Broccoli (Angela's husband's new favorite dish)
My broccoli recipe is simple.  Broccoli (cut leaving crown), flour, seasoning salt, black pepper, egg whites (beaten), melted margarine, onion powder, garlic powder.  Add dry ingredients to flour, then egg whites to make a batter. batter broccoli, then deep fry until golden brown.   Put on your kid's favorite plate with tons of ketchup.   Angela and every kid in the world will love it.
Kira's Baked Broccoli
Here's a really simple broccoli recipe that is SURE TO PLEASE!!
Spread fresh (1 or 2 heads) or frozen (1 bag) broccoli florets out on a baking sheet.  Generously drizzle olive oil over the broccoli.  Also, generously sprinkle with salt.  Put in the oven at 450 degrees (or higher) until broccoli becomes burnt (about 45 minutes or so).  Serve and enjoy!!  The broccoli gets this great crunchy texture and slightly sweet taste!
My fiance's mom used to make it for him when he was a kid.  It was the only way he would eat broccoli.  He still loves it to this day and now I get to make it for him (even though he does eat broccoli other ways).
Savannah's Breaded Broccoli
This works with any and all vegetables for the vegetable-haters in my house.  My son actually gobbles this up and he HATES VEGGIES! The favorite of all we mix in?  BROCCOLI!
This is not originally my recipe, I've adapted it from BHG.
Ingredients
-Nonstick spray coating
-1/4  cup fine dry bread crumbs
-1 tablespoon grated Parmesan cheese
-1/8  teaspoon paprika
-1/8  teaspoon garlic salt
-2  cups 1/4-inch-thick zucchini slices, onion rings, broccoli and cauliflower flowerets (*If you must, try only broccoli, we swear it's still delicious!)
-2 tablespoons Italian Vinaigrette salad dressing
Directions
1. Spray a cold cookie sheet with nonstick spray coating. Set aside.
2. In a 9-inch pie plate stir together bread crumbs, Parmesan cheese, garlic salt and paprika until well mixed. In a medium mixing bowl place zucchini, onion rings, broccoli and cauliflower. Drizzle vegetables with salad dressing; toss until well coated. Then, roll vegetables in crumb mixture until coated. Place the coated vegetables in a single layer on the prepared cookie sheet.
3. Bake vegetables in a 450 degree F oven for 9 to 11 minutes or until golden.
Makes 4 (1/2-cup) servings and is dee-eee-licious!
Kathleen's Fire Fighter Broccoli
This is the BEST broccoli recipe around. Not to mention it is quick and easy to make. I am a professional fire fighter and fix this at the firehouse. The guys love it!  Here it is:
Ingredients::
Italian Dressing
Broccoli
Parmesan Cheese (Optional)
Cut the tops of the broccoli off and slice up into bite-size portions.  Place them onto a cookie sheet and cover with Italian dressing. You may also sprinkle on parmesan cheese if you like.  Bake them for 10-15 minutes at 350 degrees.  Remove the cookie sheet from the oven and sprinkle a little more Italian dressing on the broccoli. Serve!